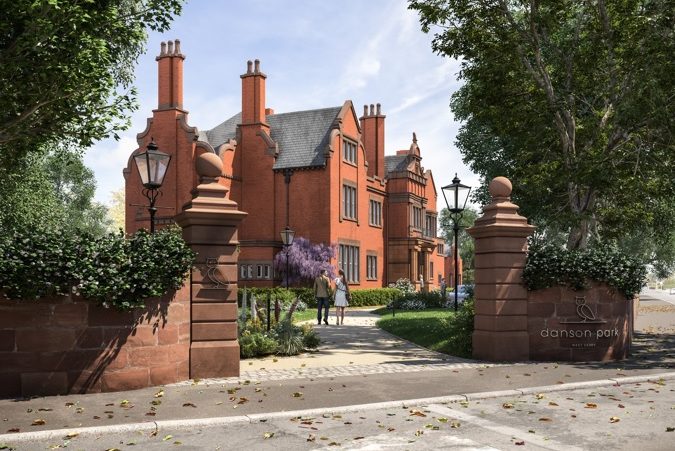 Property Summary: Hassett Homes; Miller Houses; Pure residential; Sea food ; Vivify
X
Sign up for free to receive the latest news straight to your inbox
Register now
Developer Hassett Homes is due to submit plans for the redevelopment of a listed Liverpool mansion, which will include 21 new homes and three refurbishments on its three-acre lot.
If approved, the project will also see 11 apartments developed within Eddesbury, a Grade II listed mansion on Almonds Green in West Derby.
The house was completed in 1884 by famed Liverpool architect Francis Doyle for a wealthy grocer family and has stood empty since 2004.
Hassett Homes agreed to purchase the site from a private entity in 2020 and said it would submit its development application in the fall after consultation with local residents, which is currently underway.
Chief Executive Jamie Blennerhassett said the development would put a "hidden gem" back into service. He said: "This is a gem of a building with lovely interior and exterior features that we are going to preserve and improve.
"The generous land allows us to support the viability of the project with much needed new homes while maintaining a view of the main house through the restored landscaping. This will add tremendous value to the neighborhood and eliminate a source of anti-social behavior. "
The proposals were well received by local heritage groups who feared the loss of the deteriorating building. Stephen Guy of the West Derby Society said: "This building must be seen and appreciated and we are delighted with the plans.
"It was the last 'big house' to be built in West Derby during the Victorian era and is an important part of the village's heritage. I am sure the local people will join us in supporting this.
Hassett Homes currently has five developments in and around the Liverpool area. The company's program in Eccleston saw the majority of homes sold off plan within three weeks of launch and it is now on site in Aughton developing a mix of nine three and four bedroom homes.
Mr Blennerhasset added, "The market has enthusiastically received our carefully designed homes and we have the funds to acquire other sites. We are evaluating a number of possible acquisitions and continue to look out for more. "
The development of Eddesbury was designed by the Liverpool studio of Drome Architects. Satplan is a planning consultant, with Graeme Ives (heritage), Tyrer Ecological Consultants and Highways Advice also on the professional team.
::
National home builder Miller Homes has been granted planning permission for the first phase of its new development in Prescot, south Liverpool.
Sonnet Gate, named as a nod to Prescot's Shakespearean ties, is located on Prescot Park Way and the first phase will include 53 houses consisting of three or four bedrooms.
An exciting new development based in Merseyside, Sonnet Gate will offer open concept homes including space for working from home.
The development is in a desirable location near the Merseyrail line to access Liverpool city center. It also benefits from prolific motorway links.
Ideal for young professionals, first-time buyers and growing families, Miller Homes aims to bring a new community to Prescot with Sonnet Gate.
Clare Noakes, Sales Manager for Miller Homes in the Northwest, said, "We are excited to start bringing new homes to Prescot at Sonnet Gate. We hope locals are impressed with what Miller Homes has to offer.
::
Pure Residential & Commercial has announced phase two of the Business Hub at Tir Llwyd Enterprise Park, Kinmel Bay, North Wales, which will be built by sister company K&C Construction.
The St Asaph and Daresbury based developer and entrepreneur has now moved to its new 11,000 square foot head office in St Asaph. The striking new office was designed in-house and built by K&C Construction to enable continued growth as it delivers its over £ 160million construction program of new developments in the region.
This includes five additional steel gate business units ranging from 2,906 to 8,800 square feet (270 to 818 m²) for the Tir Llwyd Corporate Park Business Center. The first two units are already completed and occupied and have been partially funded by the ERDF (European Regional Development Fund) to stimulate growth and employment.
Chris White, Managing Director of Pure Residential & K&C Construction, said: "We are responding to the growing demand for these types of units as the post-COVID market continues to advance. Tir Llwyd Enterprise Park has great connections to the A55 and our quality product makes it an attractive proposition for a wide range of businesses.
The five units include a terrace of three and a pair of semi-detached business units, each with its own yard and landscaping, available from the second quarter of 2022.
::
Online fishmonger Seafresh has expanded to new premises at Moss Industrial Estate in Leigh after a year of phenomenal growth.
The national retailer, which specializes in sourcing high-quality air-frozen fish and seafood, has moved into a new 2,146 square foot unit, double the previous one.
The company was founded by Jeff Gladwin in 1996 and was based on the principle of selling frozen food directly to the customer from his team of vans in Port Talbot, South Wales. After moving to Leigh in 2014, to be closer to his family, Jeff's wife, Rhoda, joined the business. They were offered a cold store in Leeds and began to expand their business in Yorkshire and Lancashire, making good use of Rhoda's passion for high quality customer service.
Seafresh eventually found a unit closer to home at Moss Industrial Estate in Leigh and launched online in 2016. The business started to expand in the North West and then into the rest of the UK. Jeff and Rhoda employ two packers and use independent van drivers to deliver locally. They have also established a strong partnership with the DPD courier service which delivers its products to the rest of the UK.
In addition to being an online fishmonger, Seafresh also sells a wide range of ready-to-oven products, such as breaded and battered fish, as well as meat and poultry through its website.
When COVID hit in 2020 and people were urged to stay home, supermarkets were struggling to keep up with demand. Conversely, Seafresh grew overnight. Jeff and Rhoda dramatically ramped up their operations, but with clients spanning from Plymouth to Edinburgh, they needed new premises.
Rhoda said: "We have increased dramatically during the COVID pandemic and luckily around 80% of these new customers are still with us because they really appreciate the quality of the food that we are able to deliver to their doorstep right from the start. the following day.
"We are very happy to have moved into our new home at Moss Industrial Estate, which has been incredibly supportive. We now have huge freezer-cold rooms as well as a large packing area, where we prepare each order by hand, and a nice large office space. It is a great place to work as we are now only 10 minutes from home and have easy access to the UK motorway network.
Moss Industrial Estate is owned by the family-owned George Moss & Sons, which celebrated its centenary in 2020. The industrial area is home to around 100 local businesses of varying sizes and industries.
Neill Wood, Managing Director of Moss Industrial Estate, said: "The growth of Seafresh is fantastic news and it's wonderful to hear that some companies are still doing very well in these uncertain times. We are truly delighted to have Seafresh at Moss Industrial Estate and wish them the best with their new premises and continued growth.
::
Vivify signed the conditions for a new office in Manchester city center to prepare for significant growth.
The company provides a digital platform as well as a fully managed service where underutilized school facilities can be listed for rent to maximize social and physical activities within communities and generate much-needed income for schools.
The Vivify team will occupy a private office at Huckletree, the fully equipped coworking space located in the historic former Express building in Ancoats, Manchester.
Andy Mellor, co-founder of Vivify, said: "Vivify is going through a really exciting phase right now. After obtaining the support of Arete Capital, we expect a period of sustained growth and are therefore looking for a new agile hub to set up in.
He added: "Our team is spread across the North, so Ancoats, with its great connectivity, was an ideal choice. Huckletree's brilliant equipment and flexible nature, along with OBI's insight and guidance, made it a clear decision.
Vivify partners with schools to generate new sources of revenue through the rental of their facilities by offering a direct booking platform, a sales and marketing team to generate bookings, a contact center to ensure liaison with hirers and staff.
For hireers, Vivify allows communities to come together to participate in social and physical activities at a time when it has never been more important.
Ryan White, Real Estate Company OBI's Transactions and Asset Management, said, "Huckletree's Ancoats base is a perfect fit for Vivify. As the company is going through a period of rapid growth, it needs maximum flexibility to be able to scale easily.
"This flexibility, combined with on-site amenities and being part of the Huckletree community, makes it an attractive proposition for the modern office occupant. We anticipate continued growth in the number of occupants seeking flexibility and high quality equipment to attract and retain talent.
Louis Jacobs, Head of Broker Relations at Huckletree, said, "Vivify is a welcome addition to the Huckletree family. As a growing company, the Vivify team will truly benefit from our modern, lively and flexible space in Ancoats. We strongly encourage the collaboration of tenants within our buildings, so that they are well placed to collaborate with other tenants and accelerate their ambitions for growth.
Huckletree's northern flagship in Ancoats is home to founders, start-ups, creative agencies and innovation teams including Depop, Pixel Kicks and Engine Transformation.