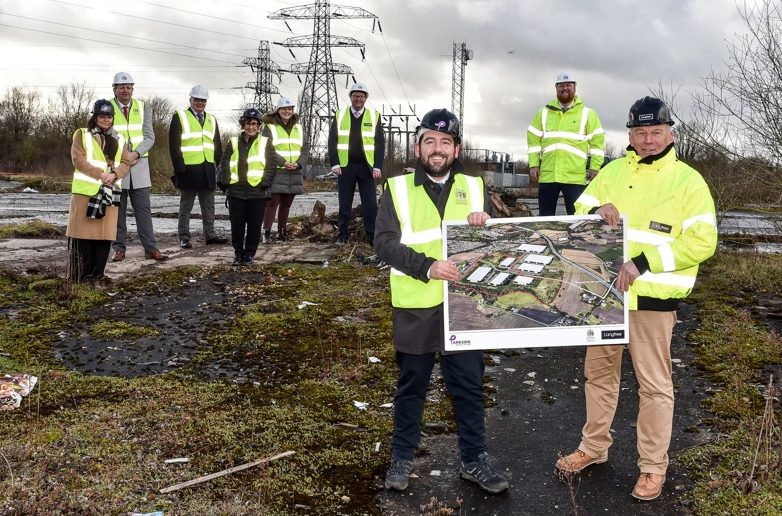 Preparations begin at game-changing Parkside site
Work has started on the site of the former Parkside colliery in Newton-le-Willows, which could create around 1,300 jobs when completed.
The logistics hub scheme, which has been described as a "game changer" for the local and regional economy, was endorsed by Michael Gove, Secretary of State for Levels, Housing and Communities, on November 11 of the 'last year.
Today, teams of engineers, project managers, architects and landscapers are among a host of professionals currently working to bring Parkside's first million square foot phase to life.
When completed, the first phase will generate over 450 jobs through construction.
John Downes, President of Parkside Regeneration, said: "There is a lot to do to finalize the design elements and it is very satisfying to see so many teams working on this. Our goal is to be on hand to deliver the first phase of development in early 2023."
To mark the start of the scheme, a number of local councilors and members of Parkside Regeneration, the joint venture between developer Langtree and St Helens Borough Council, visited the site to see how the approved master plan will translate 'on the ground ".
Work has already started on the construction of the new Parkside Link Road, which will link the site to Junction 22 of the M6 ​​motorway, diverting freight traffic from nearby roads such as the A49 and improving the local environment.
Cllr Richard McCauley, St Helens Borough Council's Cabinet Member for Regeneration and Planning, said: 'Parkside has been in the works for a number of years now so it's great to be here on site to see how this project will develop. .
"Not only does this project bring new life to an abandoned lot, but its economic benefits will also put our borough back on the map and create new jobs and employment opportunities for local residents. The scheme also comes with planning conditions and £675,000 in funding through a Section 106 agreement to provide woodland and tree planting, green infrastructure, improvements housing as well as programs to bring local people into new jobs, new bus routes and bike paths to the site and acres of new public park.
He added: "With so much going on right now in terms of regeneration projects, these are really exciting times for the borough. We promised sustainable inclusive growth with new jobs and that is exactly what we are delivering."
John Downes said the aim was to open a first phase of speculative development by the end of June 2024 and added that estate agents in the scheme were already discussing the benefits of the site with potential occupants.
"We are going to build speculatively because we know there are occupier requirements in the market. We want to be able to generate employment again on this site as soon as possible now that we have been given the green light. For me, Parkside has always been synonymous with jobs and regeneration and will be a game changer for the local economy.
The development is expected to add over £80m a year to the Borough of St Helens economy, with measures underway to maximize its impact. Programs addressing local recruitment, supply chain engagement, training and learning opportunities for local people are all in place.
Mr Downes said: "Yes, Parkside will create many jobs, but we are totally committed to maximizing its positive impact directly on the region. This will be the true mark of his success.
St Helens City Council has appointed contractor Balfour Beatty to construct the new Parkside Link Road, which is designed to carry traffic generated by site occupants onto the national road network and away from local motorways.
The road is seen as a key element in unlocking the site's full potential, with the council securing a £24 million contribution from the Liverpool City Region Combined Authority's Strategic Investment Fund (SIF) to deliver the scheme.
Cllr Andy Bowden, Council Cabinet Member for Environment and Transport, said: 'The Parkside Link Road is one of the biggest infrastructure projects our borough and region has seen in many years and will give a huge boost to the local economy, while reducing the environmental impact on our local road networks and communities.